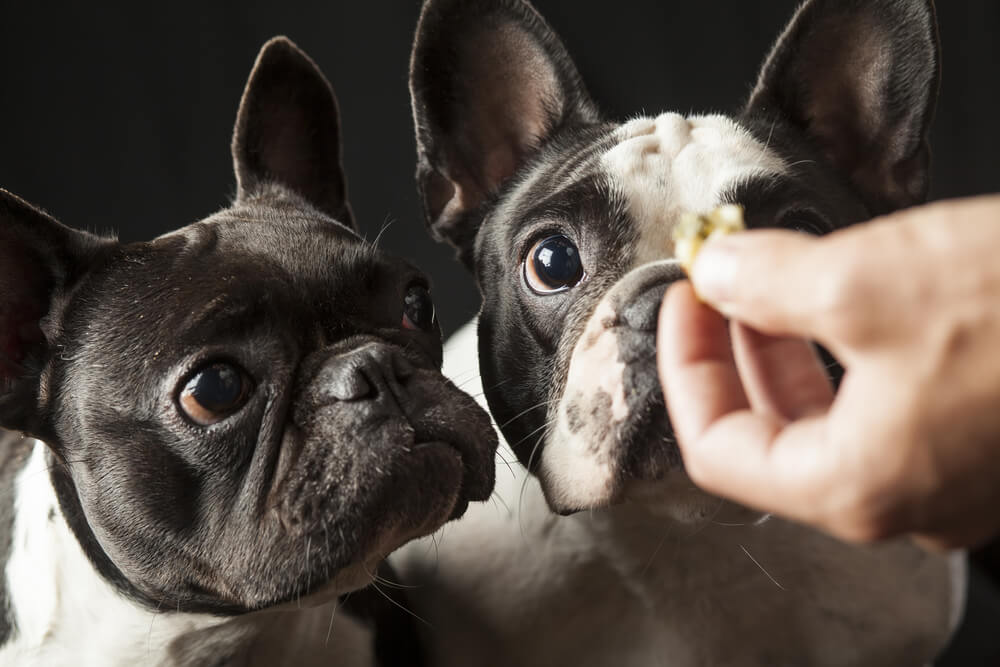 Dogs can be picky eaters and some are worse than others, just like humans! If you have a dog that regularly turns his nose up at the food you are offering, then you'll know that mealtimes can be a nightmare. Dogs need to eat a complete & balanced dog food to ensure that they are getting all the nutrients they require. If you have a picky pooch, then read on to find out what you can do to help and which dog foods are best to likely help improve their appetite.
Why is my dog a picky eater?
Just like humans, dogs are all different and they can have different preferences. Some dogs are more finicky about their food than others and it can be tricky to find a food that they enjoy. Dogs are more likely to be picky eaters if they have been fed the same food their entire life and never experienced anything different.
Some dogs have learned to be picky by holding out for something tastier. If you're guilty of tempting your dog with chicken or sausages when he won't eat his dog food, you've probably inadvertently taught him that it's not worth eating his own food because something tastier will come along later.
In some cases, a refusal to eat food or certain types of food could indicate a medical issue. Always see a veterinarian if you suspect your dog's inappetence is more than just fussiness. 
Do dogs get bored of always being fed the same food?
Some dogs are perfectly happy eating the same food and for some, it might be necessary due to a health condition or food allergies. However, it is possible for dogs to become bored of eating the same food every day. 
If you think your dog is bored with his food, you can try adding something new to it, or switching to a different food altogether. Remember that any changes in diet should be done slowly and gradually over a few days to prevent any stomach upsets. Bear in mind that this can have the same effect as tempting your dog with human scraps or treats, your dog might learn that if he stops eating his regular food, you'll give him something different instead.
Rather than changing your dog's food on a regular basis, it might help to make meal times more exciting by feeding your dog using a puzzle-feeder toy, or by using your dog's food allowance in training sessions as a reward.
Why is my dog eating treats but won't eat his food?
Some dogs do this when they don't like their food. They might also do this when they are not particularly hungry. This could also be a sign that your dog is feeling unwell. If they have lost their appetite, then their regular food just isn't tasty enough to tempt them whereas a small treat might be. Take your dog to the veterinarian to get them checked over if you are concerned that they're refusing food because they're unwell.
Should I give my dog leftovers?
For most dogs, it's fine to give them the occasional treat of certain human foods, for example, chicken thigh or blueberries. Bear in mind that some human foods like grapes are poisonous for dogs so always check with your veterinarian before introducing anything new to your dog's diet.
It isn't a good idea to feed your dog leftovers or table scraps as food prepared for humans often contains high levels of salt or food additives. It's also likely to cause a stomach upset. As already mentioned, some human foods are downright dangerous for dogs, even in small quantities. You should try not to get into the habit of tempting your dog to eat leftovers or table scraps as they are more likely to refuse their regular dog food in the future if they knows that something tastier is coming their way!
What type of dog food is best for picky eaters?
Let's take a closer look at a few different options of complete & balanced "home cooked style" whole food recipes which contain human-grade ingredients that can help satisfy even the pickiest of eaters!
1) Raised Right's Original Turkey Adult Dog Recipe
Many dogs love turkey and this recipe contains turkey thigh meat, turkey heart, and turkey liver as the 3 main ingredients. Carrots are next on the list and then blueberries as many dogs enjoy the taste of blueberries. With only 10 ingredients in total, there isn't much for your dog to dislike!
2)
Raised Right's
Original Beef Adult Dog Recipe
Beef is another popular flavor amongst dogs and this recipe contains human-grade sources of beef, beef heart, and beef liver. It also contains carrots which many dogs love as they are often fed as a tasty treat.
3) Raised Right's Original Pork Adult Dog Recipe
This dog food contains pork, pork heart, and pork liver as the top 3 ingredients, followed by carrots and then blueberries. For dogs that love pork, this is sure to be a winner!
4) Raised Right's Turkey & Pumpkin Paté for Adult Dogs
If your dog prefers a paté style food then this is a tasty option containing turkey thigh, turkey heart, and turkey liver. It also contains pumpkin which is not only enjoyed by many dogs, but also has several digestive benefits.
5) Raised Right's Beef & Pumpkin Paté for Adult Dogs
This is another paté style recipe and it only contains 8 ingredients in total, so it could be a game-changer for your picky dog!
Summary
If you have a dog who is a picky eater, it might be time to consider switching to a food that contains real human-grade meat to help improve their appetite. Feeding a limited ingredient dog food is also a good idea for picky dogs as there are fewer ingredients for your dog to take a dislike to!
Frequently Asked Questions
What dog food is best for picky eaters?
Dog foods that contain human-grade ingredients and are lightly cooked to retain their flavor are usually more palatable and are often enjoyed by even the pickiest of eaters.
What dog food do dogs like the taste of best?
Just like humans, dogs are individuals and have individual tastes and preferences. Some dogs like a wide variety of flavors and ingredients whereas some prefer the taste of a particular meat or fish.
What can I feed my dog who doesn't like dog food?
If your dog is fussy with most dog foods, then try feeding them a complete & balanced "home cooked style" dog food that contains human-grade meats with limited ingredients.
How do I fix my picky dog eating?
Try to avoid offering your dog too many treats or table scraps in an attempt to get them to eat, this will just teach them that if they don't eat their regular food, something tastier will be offered. Make sure your dog isn't being picky with their food because of a medical condition and take them to the veterinarian to get them checked.