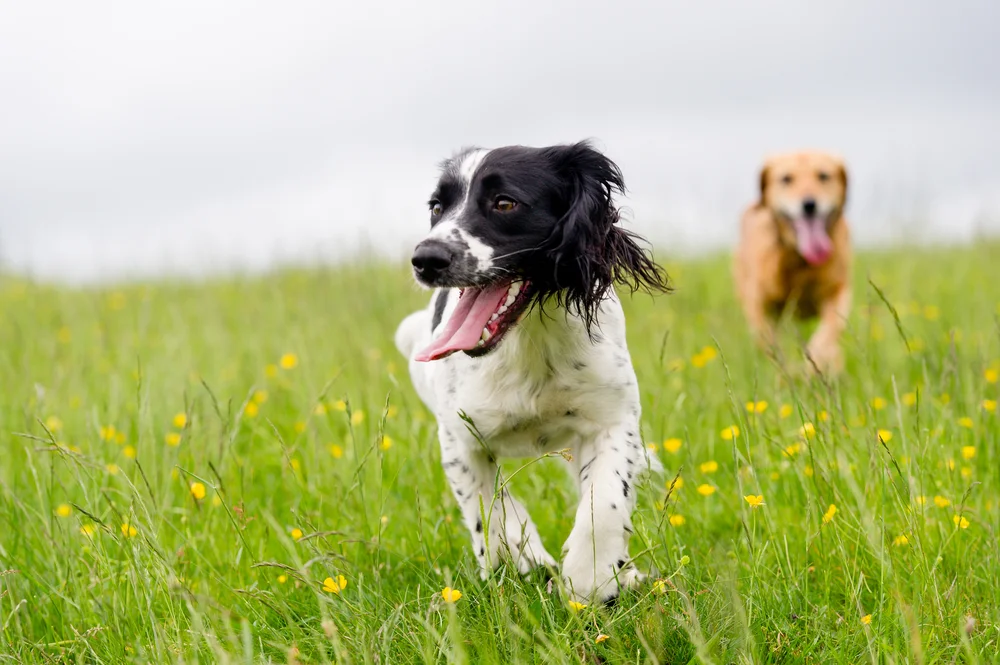 Did you know that dogs pass gas? Just like humans, this happens to dogs too. 'Doggy farts' or 'dog flatulence' is a normal process in the body and it happens during the digestion of food. However, sometimes dogs can pass excessive gas or it can be extra smelly. This might be an indication that your dog's digestive tract isn't doing too well and we have some home remedies that might help this. 
What Causes Dog Gas? 
In order to understand what causes problems with gas and how to fix it, we need to understand the process. Dog gas or flatulence is a normal part of the digestive system process. It occurs when bacteria break down undigested carbohydrates in the colon. Gas is released as a result. It's normal for dogs to pass gas several times a day but it shouldn't be overly smelly or loud. Any changes in the gas that your dog passes could indicate that there's a problem with the digestion of their food. 
What Causes Gas Problems in Dogs?
Now that we know that passing some gas is normal, what is abnormal? Several factors can indicate a gas problem with your dog including;
Excessive gas 

Extra smelly gas

Loud gas

Passing a lot of gas while pooping

Lots of tummy rumbling (borborygmi)
If your dog is displaying any of the symptoms above, it means that they're having trouble with their gas. This could be caused by extra air in their gut (dogs that eat their food too fast) or excessive fermentation in the colon. Excessive gas produced in the colon can occur if your dog is trying to digest lots of carbohydrates or food that they may have an allergy to or sensitivity to. This is why feeding a limited ingredient diet that's low in carbohydrates can be helpful for dogs with these issues.
Food is a very important factor when it comes to doggy gas. If your dog is having gas issues, it's likely that they're having digestive problems. This often boils down to the food that they're eating. Eating poor quality food that is high in additives, processed ingredients and carbohydrates could be predisposing your dog to gas and tummy issues. 
Carbohydrates are made up of simple and complex types. Simple carbohydrates are absorbed by the small intestine and converted into glucose while complex carbohydrates such as carrots and other non-starchy vegetables are made up of more fibers and starches which require more digestion. It makes sense that higher levels of carbohydrates in a diet can lead to higher levels of glucose in the blood and more digestion requirements in the body.  A lack of digestive enzymes from the pancreas can affect how these carbohydrates are digested.
If they're consuming large amounts of poor-quality food, they're also prone to obesity which could make the gas issues worse. Even worse, there's a strong link between obesity, chronic inflammation, and cancer in humans. This is thought to be similar in dogs and even more reason for us to feed them properly to avoid inflammation. Inflammation is the root of almost all chronic diseases. 
If they've had a recent diet change, eat scraps from the table, or have a diet sensitivity these could cause digestive issues too. 
Immediate Gas Relief Home Remedies
Gas issues can be painful and uncomfortable so it's important to get some relief for your dog as soon as possible. There are a few things that you can do at home that might help:
Tummy Massage
Massaging your dog's tummy might help to get the gas moving and provide some comfort to your dog. Simply get yourself into a comfortable position and use the flat palm of your hand to gently massage your dog's abdomen. Do this in a circular motion applying mild pressure. 
Warm Bath
Similarly, a warm bath can help to get the intestines moving. This will help the gas to move along and provide some relief. You can also try massaging the dog's tummy while they're in the bath. 
Probiotics
Probiotics can help tummy issues by adding good bacteria back into your dog's gut quickly. You can purchase probiotics supplements to feed your dog or even start adding some plain yogurt to their diet (provided they don't have a dairy sensitivity). Some probiotics are formulated with prebiotics. These are also beneficial and help to feed the good bacteria already in the gut. 
Long Term Gas Relief Home Remedies
Immediate relief of gas is important but there's no point in doing this unless we're going to fix the problem long-term. There are a couple of things that you can try to help with this problem:
Diet 
One of the most important factors is the diet that you feed your dog. "You are what you eat" is very relevant here. If you feed your dog a poor quality diet it's likely that they could suffer from tummy issues. 
Sourcing a high-quality complete & balanced diet that is high in protein and low in carbohydrates is important. It should have a limited ingredient list and no preservatives. If you're reading a long list of ingredients and you don't recognize most of them, that's not a good sign! 
Slow Feeding Bowl 
Using a slow feeding bowl can help to slow down dogs that eat too fast. Eating too fast can cause dogs to ingest air which can cause more gas. These bowls slow down the eating process and also provide mental stimulation. 
Treat Diet Sensitivities/Allergies
Dogs can be allergic or sensitive to ingredients in their food. This is particularly the case if the food has a long list of ingredients. This can cause tummy upsets and gas problems. If you think your dog has reacted to a particular food, try them on a different food. Ideally, you should try them on food that has a limited ingredient list and is low in carbohydrates. If it isn't resolved on a new food or there are other symptoms, get advice from your veterinarian. 
Rule Out Underlying Health Problems
Excessive gas or smelly gas could also be a sign of an underlying health issue e.g. parasites, inflammatory bowel disease, etc. If your dog is displaying any other symptoms (e.g. weight loss, diarrhea, vomiting) or the gas isn't resolving, book a check-up with your veterinarian. 
Conclusion 
Gas is a normal part of food digestion in dogs. It can cause problems when it's excessive or extremely smelly. This could indicate a problem with your dog's digestion, more specifically with their diet. Avoid poor quality diets and feeding scraps off the table. If the gas isn't resolving or if your dog has other symptoms, get advice from your veterinarian. 
FAQs:
What home remedies can I give my dog for gas?
A tummy massage and a warm bath can help provide immediate relief for gas. Feeding probiotics and a limited ingredient diet that's low in carbs can also help. 
What helps with dogs having gas?
Ensuring that your dog doesn't eat too fast and isn't suffering any underlying food allergies or intestinal issues. Seek advice from your veterinarian if you're concerned.