If you have a canine companion or puppy pal, they're bound to be a huge part of your life. Being a pet parent is one of the best jobs in life, but it also comes with a lot of responsibilities. Keeping an eye out for signs of illness, seeking veterinary help when needed, and ensuring your dog has a complete and balanced diet are just some of these responsibilities. But what about if you're not certain whether your dog needs a vet? What if your dog won't eat his food but will eat treats? Does that mean they're sick? Or are they just being fussy?
Is your dog unwell?
Before you decide your dog is just being picky when they don't eat their food, it's worth making sure they're not unwell. Look out for other symptoms like vomiting, diarrhea, coughing, or dribbling. If your dog has a stomach upset or a high temperature, they might not feel like eating. You can find out more about gastroenteritis in dogs by reading the article we wrote about this. Mouth pain or bad teeth could also mean they're less likely to eat their normal amount. So, if your dog has other symptoms, or just doesn't seem like their normal self, it's best to get them checked over by a veterinarian just in case there's more to it than fussiness.
What can you do if your dog won't eat his food but will eat treats?
If you've offered your puppy or dog every dog food under the sun and they're not interested, it can be frustrating, especially if they'll happily eat treats. It's bound to be concerning if your dog doesn't eat their food, but you don't have to worry right away. Read our blog on how long a dog can go without eating to help put your mind at ease. 
So, what can you do to help your picky pooch become less fussy and improve their appetite?
Check that they're not unwell
It's really important not to assume your dog's being picky when their appetite isn't as good as normal. A poor appetite can be a sign of a lot of different illnesses and health issues. To be safe, it's best to take them for a full health check at the veterinary clinic, to make sure there's no underlying problem.
Stop feeding treats
Imagine you were offered a plate of meat and vegetables, but then you were told you could have a cupcake or doughnut instead. Not only that, but what if you were offered sweet treats throughout the day? Would you be keen to eat a normal healthy meal? Or would you pass on the healthy food and wait it out for the next opportunity for something really tasty? It would certainly be tempting to hold out for junk food, wouldn't it? And even if you wanted healthy food, you might not have an appetite for it after all those treats. 
Dogs are just the same. They might prefer to fill up on treats or hold out for an offer that's more appetizing than their dog food. Therefore, if your dog is willing to eat treats but turns their nose up at their dog food, try cutting back on the treats for a while so they learn that if they don't eat their dog food there won't be anything tastier later.
Choose one food and stick to it
It's so tempting to chop and change your dog's diet if they're picky. However, by switching to a new flavor, brand, or type of dog food each time your dog turns their nose up at the food bowl, you'll be encouraging them to be fussy. Once you're happy that a particular dog food is a good fit for your furry friend, try to stick to that for at least a few weeks to let them know that that is the food on offer and they're not at a buffet!
Offer food at specific mealtimes
If you're used to feeding your dog ad-lib, they might benefit from set mealtimes. If they know that there'll always be food available, there won't be much urgency to fill up. By leaving their food bowl down for half an hour at breakfast and then picking it up until the next mealtime, you'll make sure they're hungrier and more likely to eat their dinner. 
Consider a different food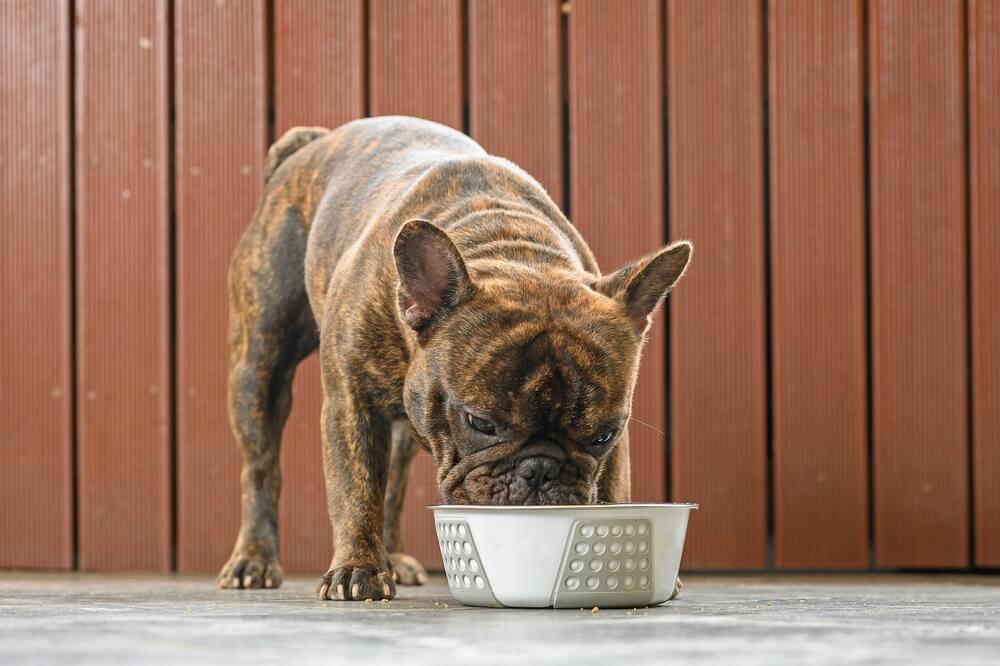 Not all dog foods were created equal, and different dogs will prefer different flavors. While it's best not to change your dog's food all the time, if you're suspicious that their current dog food doesn't fit the bill, you might have more success with a new dog food. It's worth considering that "home cooked style" human-grade dog food can be more appetizing to your furry friend because dogs usually get more excited about eating real meat than highly processed food.
Summary
Sometimes dogs have fussy appetites, especially smaller breeds. If you're sure there's nothing medically wrong with your pet and they're just picky, there are a few things you can try to improve their appetite. One of the most important things is making sure their dog food appeals to them.
FAQ
Why is my dog not eating her food but eats treats?
Sometimes health issues like nausea or mouth pain can cause a picky appetite, so it's a good idea to book a veterinary checkup if your dog isn't eating well. Once you're sure there's no underlying health problem, you should try reducing treats and selecting one nutritionally balanced dog food and sticking to it.
How can I get my dog to eat instead of treats?
To improve your dog's appetite for their dinner, start by cutting out treats and little extras from your dog's diet. Make sure the food you offer is appealing and flavorsome as well as nutritionally complete, and once you've chosen a dog food don't offer anything else.
Why does my dog not eat his food but eats mine?
Dogs are clever and they soon learn that eating your food is an option if you let them! If you regularly share food with your dog, you might be making them fussier as well as filling them up before their normal meal.
Why will my dog eat everything but her food?
If your dog is keen to eat anything but their food, it could be that you're giving them too many treats. However, it's also worth considering that their dog food isn't a good fit for them.