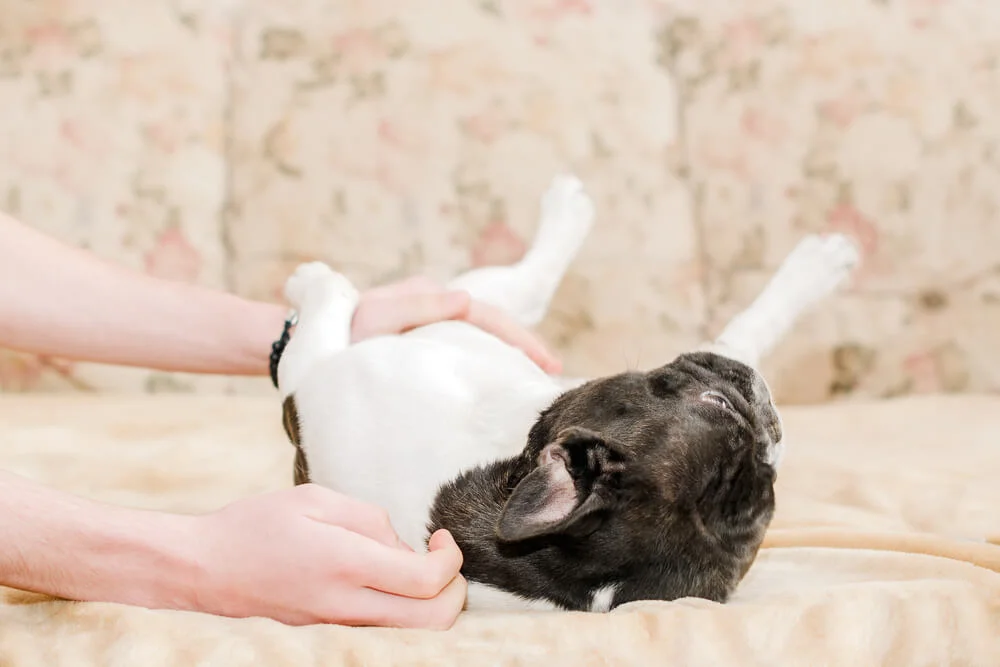 French Bulldogs are mischievous dogs that are full of fun and character. They make great companion dogs and quickly become an important member of the family. Unfortunately, they can be predisposed to some health conditions and skin problems are one of them. Many French Bulldogs suffer skin irritation in their skin folds but they can also get skin allergies. In this article, we'll discuss the causes of a rash on your French Bulldog's belly and the causes and treatment of this.  
Symptoms of Belly Rash in French Bulldogs
There are many symptoms of skin problems in French Bulldogs. They can vary from dog to dog and can be mild-moderate depending on the cause. If your dog has a rash on their belly you might notice;
Skin redness (erythema) 

Raised bumps (papules)

Bumps that have white heads (pustules)

Discharge 

Skin color change 
The belly rash can cause itching and scratching (pruritis) which can cause further trauma to the area. As you know, dogs' nails are sharp so if they're scratching their tummy they could cause bleeding and sores. Dogs with skin problems might be distracted as they're uncomfortable which can cause them to interact with their owner less and even eat less. They might seem irritated and withdrawn and not their usual happy selves.
Skin rashes can occur on the belly but they can also appear on the inner thighs, groin, and underarm areas. French Bulldogs are prone to skin irritation in their skin folds which occurs around their nose and tail base mainly. 
Causes of Belly Rash in French Bulldogs
There are many causes of belly rash in dogs. It can be caused by skin irritants, skin conditions, or hormonal issues in the body. We'll talk about these in more detail now. 
Skin Irritants
Skin is the body's first line of defense against the outside world so it's not surprising that it can become irritated by things it comes in contact with. This is also called contact dermatitis, meaning that the skin becomes inflamed by something it's come in contact with. It can be irritated by heat, cold, chemicals, or irritable objects (e.g. lying on a hard rough floor). Contact dermatitis also includes the skin coming in contact with something that the dog is allergic to. 
Skin Conditions
There are many conditions that can occur in the skin including parasites (e.g. sarcoptic mange), fungal infection (e.g. ringworm), bacterial infection (pyoderma), and allergies. Allergies are a very common issue in French Bulldogs and they can be caused by environmental allergies or food-related allergies. 
Hormonal Issues
Certain hormonal conditions can cause skin problems along with other symptoms in the body. Examples include hypothyroidism and Cushing's disease. There will likely be other symptoms including increased drinking, increased urination, and weight gain. 
How to Treat Belly Rash at Home 
If you notice that your dog has a mild belly rash, there are some steps that you can take at home. You can wash the area with a sensitive dog shampoo to wash off any potential allergens or irritable substances that your dog has come in contact with. Remove any sources of extreme heat or cold that could be causing the rash. Keep your dog up to date with their parasite control from your veterinary clinic. 
If you think your dog has reacted to food, you can try feeding them a high-quality limited ingredient diet that is low in carbohydrates and doesn't contain any preservatives. Feeding your French bulldog a good quality diet is important. Poor-quality diets tend to have long ingredient lists which could expose your dog to potential food allergens. For your dog's optimum health, feed them a diet with a limited ingredient list and human-grade ingredients. 
Dog food allergies that aren't resolving on a high-quality diet with limited ingredients might need to try a special food to rule out allergens. Your vet might advise a food trial with a hypoallergenic or novel protein diet for a minimum of 6 weeks. 
When to Visit Your Vet
Most cases of a mild skin rash can be treated at home but some cases might need veterinary attention. Any skin rashes that aren't clearing up or rashes that are particularly severe and irritating to your dog, should be seen by your veterinarian. Your vet will examine your dog and might take skin samples and check for fungal infections. If your dog is displaying any other symptoms (e.g. increased drinking) they might recommend blood and urine testing.
Conclusion
Belly rashes in French Bulldogs have many potential causes including heat, parasites, allergies, fungal infection, bacterial infection, and hormonal problems. Mild cases can be treated at home by feeding a limited ingredient diet, keeping parasite treatment up to date, and washing the skin if it's come in contact with something irritating. Visit your vet if the rash isn't clearing up or if it's severe and causing pain to your dog.
FAQs
Why does my French Bulldog get a rash on the belly when outside?
If your French Bulldog gets a belly rash when they go outdoors, it could be that they're allergic to something they're coming in contact with. This could be grass, weeds, flowers or pollens. Contact your veterinarian to get advice on allergy treatments. 
Why does my French Bulldog get a rash on the belly after the shower?
French Bulldogs can get a tummy rash due to heat. A heat rash could occur after a hot shower as the skin on their belly is quite sensitive. Try reducing the temperature next time. 
What to put on my French Bulldog belly rash?
If the rash occurs after going outside, you can wash the area with a sensitive dog shampoo. Avoid rubbing any human products on the area. Your vet can prescribe a steroid cream or spray to use on the area if they think it's appropriate for your dog's problem. 
How to get rid of French Bulldog belly rash?
There are many causes of belly rash and the treatment depends on the cause. Rule out contact allergy (grasses, weeds, pollens, heat, cold, chemicals), keep your dog's parasite treatment up to date and try feeding them a high quality limited ingredient diet. Contact your vet if the rash isn't resolving.