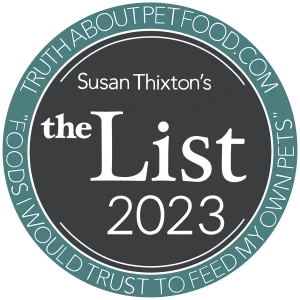 Raised Right, a family owned human-grade pet food company, has been named to The 2023 List of Trusted Pet Foods by Truth About Pet Food. Raised Right works with veterinarian, Dr. Karen Becker to formulate whole food recipes that are high in protein and low in carbs through using limited ingredients.
Each year Susan Thixton, also known as "The Caped Crusader for Safe Pet Food", publishes "The List" in her Petsumer Report through Truth About Pet Food and its consumer association, Association for Truth in Pet Food. Susan holds advisory positions on two AAFCO committees – the Pet Food Committee and the Ingredient Definitions Committee.  AAFCO is the Association of American Feed Control Officials which develops pet food regulations for the industry.
"The 'List' is my list of pet foods that I would trust to give to my pets. No pet food company pays to be on The List. I accept no money from any pet food manufacturer. They are accepted on The List based on their quality. The pet foods were chosen after detailed information and verification to quality of ingredients were provided. Question topics include quality of ingredients, manufacturing, ingredient country of origin, and laboratory testing." says Thixton.
"To be recognized by Susan Thixton is an amazing honor. Susan is a huge advocate for pets with the impact she is making through encouraging pet food companies to operate with transparency and strict safety standards, which is exactly what we do at Raised Right. We can proudly make the human-grade pet food claim as all our food is lightly cooked in a USDA inspected human-grade facility and every ingredient has passed the same standards necessary for human consumption. Every single batch of our food is lab safety tested for E. coli, listeria, and salmonella. With our hold release program, we don't ever ship our food unless it passes the lab safety test. The lab results are posted on our website for everyone to see, along with a map tracing all our ingredients to their source, and a video showing how our food gets cooked." says Braeden Ruud, Raised Right's Co-Founder / CEO. "Additionally, we're the first company to voluntarily submit a recipe to be tested by Check Your Pet Food and the only company to make the results public. The results from the test showed that our guaranteed analysis matches our label & that the nutritional analysis meets AAFCO's standards for a complete & balanced diet."
The 2023 List includes 38 different pet foods, 34 foods available for dogs, and 25 foods available for cats. Susan developed the Petsumer Report to help consumers find safe and healthy pet food. Petsumer Report has done the homework for pet food consumers so that you don't have to blindly trust the pet food label. Subscribers have access to a database that provides vital information on over 4,000 pet foods and treats. Subscribers have 24/7 access to information the pet food label does not provide and get alerts to risky ingredients, ingredient country of origin, grade or quality of meat ingredients, list of health promoting ingredients, and recall history.
"All pet foods, regardless of style (kibble, can, dehydrated, raw, and so on) are made with one of two very different types of ingredients; human grade ingredients and/or feed grade ingredients. Human grade is food, the same quality of ingredient as in human food. Feed grade ingredients can vary in quality from human food quality to highly inferior waste ingredients. Such as: the FDA openly allows feed grade pet food ingredients to be sourced from diseased animals, condemned animal material, and decomposing animal carcasses. I never give my own pets a feed ingredient pet food. There is too much unknown about feed ingredient pet foods (are the meats from condemned animals? Are the vegetables waste ingredient feed grade too?). I only give my own pets human grade ingredient pet foods." says Thixton.
You can access plenty of free information at www.truthaboutpetfood.com, or purchase The List (https://truthaboutpetfood.com/the-list/) or Petsumer Report (https://www.petsumerreport.com).