It's horrible when our furry family members are sick – you want to do what's best for them and make them feel better in any way you can. It's especially heartbreaking when you offer them their food and they barely look up because they're feeling so unwell. So, what should you do if you have a sick dog with no appetite? What's best to feed them and when should you be concerned?
What should you do if your dog is sick and won't eat?
First things first, if your dog is sick and has lost their appetite, you shouldn't leave it too long before contacting a veterinarian. Especially if they are young, old, or have other symptoms it's best to call your veterinarian for advice before trying to nurse them at home. If they're not drinking either, they could become dehydrated quite quickly, so make sure you get them checked over by a veterinarian to make sure there's nothing serious going on.
What should you feed a sick dog with no appetite?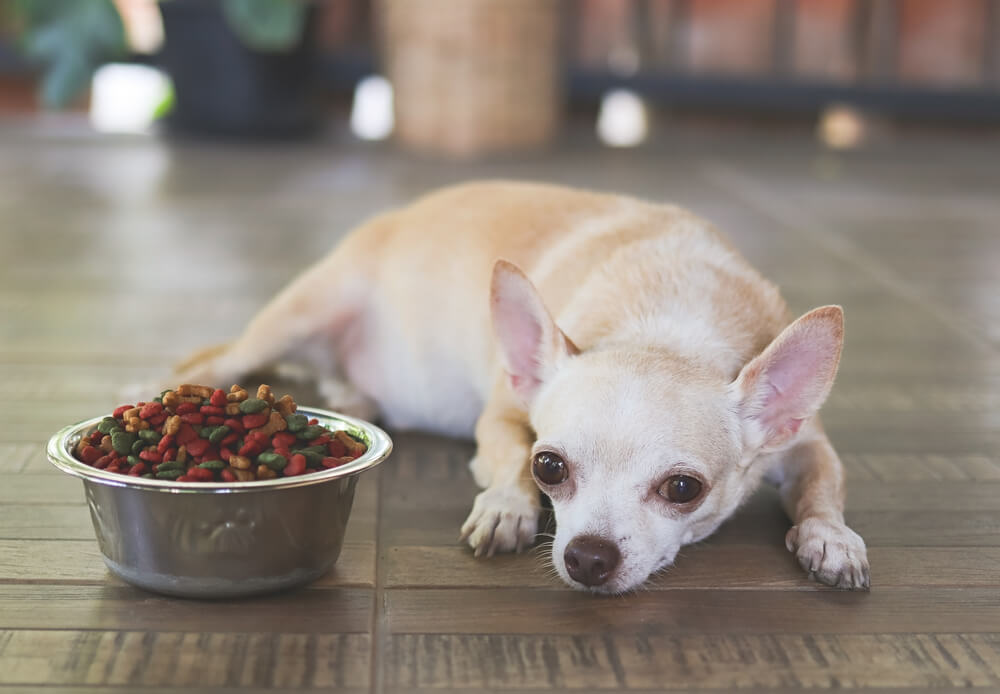 Once you're sure that your dog is stable and just needs some time or medication to recover, you can start to think about what's best to feed them. After all, your dog needs food for energy and to help them heal. It might be tempting to reach for treats or cook up their favorite human food just to get them to eat, but there are situations where that's not the best approach. Let's find out what to feed your dog when they're sick:
If they're vomiting?
Although you might think your dog is turning their nose up at their food because it's bland or boring if they're vomiting it's more likely that they're feeling nauseous. Rather than reaching for something more exotic and palatable, stick to bland foods like limited ingredient dog food, chicken, or pumpkin. Of course, if your dog has a food allergy or sensitivity, you should avoid that food too.
If they have diarrhea?
Similar to if your dog is vomiting, a bland diet or a limited ingredient diet is the best way to go. You can read more about bland diets for dogs here. The only difference when it comes to diarrhea is that a higher fiber content could help to bulk up their stools and settle their diarrhea. Pumpkin is a great source of fiber and some companies include pumpkin in their complete & balanced recipes, making it an excellent option if your pooch is prone to diarrhea.
If they're a puppy?
Puppies don't have the reserves that older dogs do, and their immune systems are weaker. Therefore, it's best to get them checked out by a veterinarian as soon as possible if they're unwell because they can lose weight, dehydrate, and deteriorate quickly. Once the vet has given them a once over if you're trying to tempt a puppy to eat it's best to choose bland foods with limited ingredients because their young stomachs can be sensitive. Remember, though, young puppies grow quickly so they need lots of protein and calories to give them energy.
If they're old?
There are lots of reasons why an older dog might go off their food. They could be in pain from arthritis, they might have a stomach upset, or it could be something more serious like kidney or liver failure. If your older dog isn't eating, you should always speak to a veterinarian. Once you know that they're okay, you could try tempting them with something particularly tasty or palatable, as long as they don't have vomiting or diarrhea. Food that contains real human-grade meats and whole food ingredients is often more appealing, which can help inspire an appetite in even picky eaters!
What if they still won't eat?
If you've tried tempting your furry friend but they haven't eaten anything for 24 to 48 hours, it's time to visit the veterinarian. Your vet will do a physical examination and might recommend blood tests, scans, or other tests to find out if they have an underlying health problem that needs treatment. They might keep them in the hospital to rehydrate them with a drip or dispense medication to help them with pain, nausea, or infection.
Summary
When our pets are sick, as pet parents we just want them to be well again. One of the most important things we look for as a sign that they're improving is their appetite. But it's hard to know what to offer them to get them to eat without making things worse. That's where it can be helpful to feed a bland diet or a limited ingredient diet.
FAQ
What to feed a sick dog that refuses to eat?
It's important to get your dog checked if they haven't eaten anything for 24 to 48 hours, and sooner if they are a puppy, haven't had anything to drink, or have other symptoms. Once you're sure they just need some T.L.C. you should offer a bland diet or a limited ingredient diet if you can.
How can I stimulate my sick dog's appetite?
If your sick dog won't eat they might need medication to stimulate their appetite or settle their nausea.
How long can a dog go without eating when sick?
Dogs should be seen by a veterinarian if they haven't eaten for 24-48 hours. They should be seen sooner if they are very young or very old, if they have other symptoms, or if they're not drinking water and keeping it down.