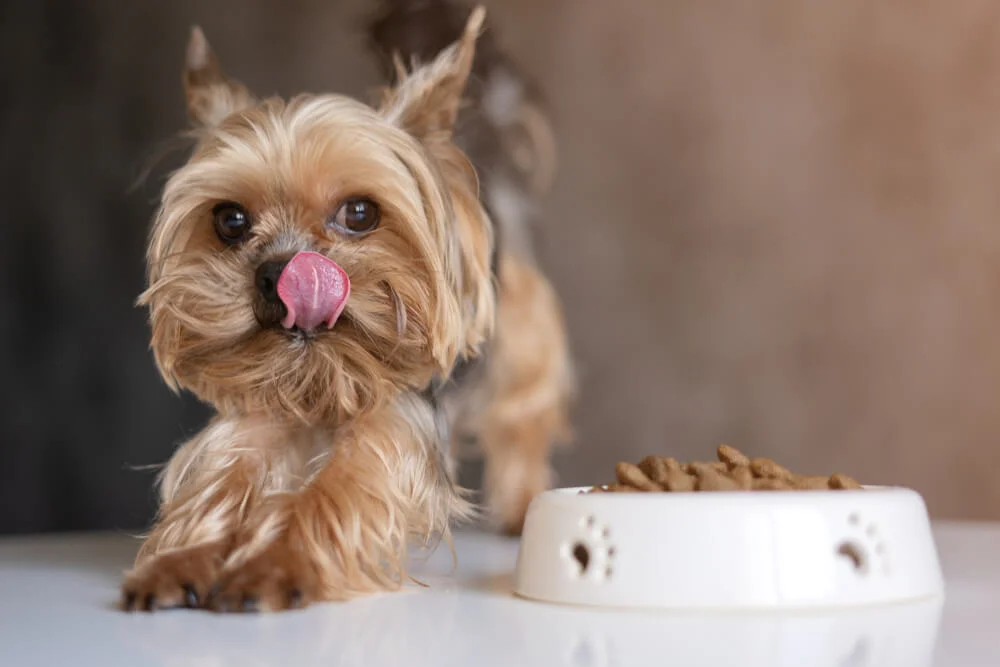 Part of keeping your dog healthy is making sure that they are the right weight. Too heavy and their joints will be sore, their heart and lungs will struggle, and they could develop diabetes. On the other hand, if they're underweight, they will lose muscle and over time their organs could fail. So, how do you know what's the right weight for your Yorkie? And once you know what their ideal weight should be, how do you help them to reach it?
How much should a Yorkie weigh as a puppy?
The ideal weight of a Yorkie puppy will depend on their age and build. Often, a lower weight as a puppy means they'll be smaller when they reach adulthood, but this isn't always the case. You can use the following chart to help assess whether your pup is growing as they should, but if you have any concerns about your puppy's growth, speak to your veterinarian.
Yorkie puppy weight chart
Age

Small

Medium

Large

oz

kg

oz

kg

oz

kg

8 weeks

16

0.5

24

0.7

32

0.9

3 months

22

0.6

34

1

47

1.3

4 months

29

0.8

44

1.2

62

1.8

6 months

42

1.2

64

1.8

92

2.6

9 months

63

1.8

94

2.7

125

3.5

adult

64 (4lb)

1.8

96 (6lb)

2.7

128 (8lb)

3.6
How Much Should a Yorkie Weigh?
As an adult, most Yorkies weigh between 4 and 7 pounds. Of course, smaller Yorkies exist, but Yorkies smaller than 4 pounds are classed as teacup Yorkies. It's also possible for a Yorkshire terrier to be larger than this weight range but still be healthy. Therefore, it's more accurate to assess your dog's body condition score rather than their weight on its own. Their body condition score will give you information about their body fat and whether they are carrying extra weight or even a bit underweight. Your veterinarian can show you how to check their body condition score, but the assessment involves feeling your dog's ribs and spine and visualizing their waist.
What should you do if your Yorkie is underweight?
If your dog's weight isn't as high as the average range for a Yorkie, first check their body condition score. If their spine and ribs are prominent and visible, they are truly underweight. If they have any symptoms of being unwell you should get them checked by a veterinarian. If they are acting well, you can try changing their dog food or increasing the amount you feed them. It's crucial to choose a dog food that meets AAFCO's standards for a complete & balanced diet. Also, make sure your dog food contains human-grade protein sources and healthy fats. It's very important to make sure you're not feeding a diet that's high in carbohydrates as too many carbohydrates may contribute to inflammation. This is because the inflammatory process uses glucose, and carbohydrates are broken down to glucose in your dog's body, inadvertently fueling inflammation. 
What should you do if your Yorkie is overweight?
If your Yorkie is overweight, and their body condition score shows that they have fat covering their ribs and spine and not much of a waistline, you need to cut back on their food. Some companies have customized feeding calculators on their website that have a lose weight option to help your dog lose weight gradually. Feeding a diet that's high in protein and low in carbohydrates can help dogs reach their target weight and stay lean.
How can you keep your Yorkie at a healthy weight?
It's not easy to keep a Yorkie at a healthy weight because they're often fussy eaters. This means it can be easy to inadvertently fill them up on treats and tidbits, so they're not interested in their dog food. You can find out more in our article How much food should a Yorkie eat per day? Here's what you need to know about maintaining your dog at a healthy weight:
Dog Food
If your dog's current food isn't working for them, you might need to change their diet. Choose a dog food that isn't high in carbohydrates, since this could lead to weight gain and obesity. A low carbohydrate diet will also have the added benefit that it could reduce inflammation. 
Exercise
While exercise alone probably won't help your dog lose enough weight if their diet is poor, it's a good idea to increase their activity level with playtime and walks in combination with a healthy diet. If your dog is underweight and very active, you might need to increase their food so that they have enough calories.
Summary
For any dog, being overweight or underweight can pose plenty of health risks. If you're struggling to keep your dog in ideal shape, it's a good idea to speak to your veterinarian for some extra advice if you need it.
FAQ
Is 12 pounds big for a Yorkie?
12 pounds is very large for a Yorkie. If your Yorkie weighs 12 pounds and they are a pure breed, they're likely overweight. You can check this by asking your vet to perform a body condition score.
How do I know if my Yorkie is overweight?
Rather than looking at the number on the scales, you should take into account your dog's body condition score before deciding whether they are overweight. Feel their ribs and spine and look at their waist to get an idea of how much extra body fat they're carrying.
Can a Yorkie weigh 14 pounds?
A Yorkie wouldn't usually weigh 14 pounds unless they were very overweight or mixed with another breed. However, if you think your Yorkie is 14 pounds and healthy, speak to your veterinarian and check their body condition score.
What is overweight for Yorkies?
The normal weight range for Yorkies is 4 to 7 pounds. However, many healthy Yorkies will have weights outside of this range. If you're concerned about your Yorkie's weight, speak to your veterinarian.