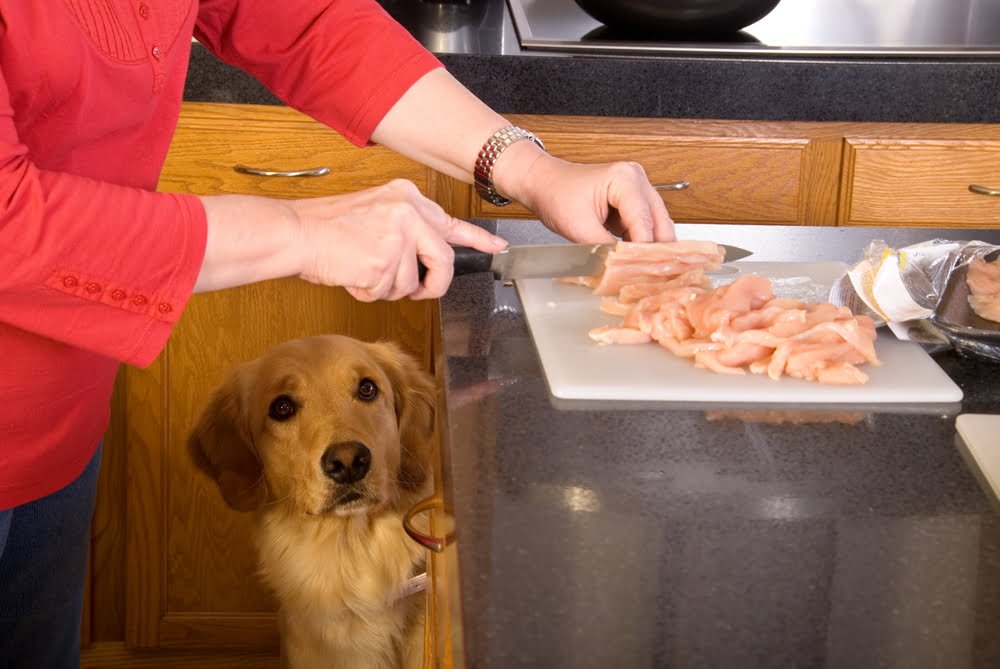 Chicken is a very common ingredient in many of our diets and we enjoy it roasted, grilled, fried, or boiled. Have you ever wondered if your pooch could have some chicken too? Well, the simple answer is yes! They can enjoy chicken and it is a healthy and nutritious food for our canine companions. 
Let's dig into learning how to boil chicken for dogs. But first…
Is Chicken Actually Healthy for Dogs?  
Chicken is a great source of protein, omega 6 fatty acids, essential amino acids, and glucosamine. Along with being healthy, low-fat meat, it's also delicious and it's a safe bet to assume that most of our dogs love to have a bit of chicken. It can be a great alternative to doggie treats or certain dog foods that are high in salt and other additives that we'd prefer to avoid. It's perfectly safe to feed a dog chicken, unlike some other human foods that can be harmful e.g. onions, garlic, and grapes. 
Can We Cook All of The Chicken? 
Even though chicken is a healthy food for dogs, not all parts of the chicken are safe for our dogs to eat. Certain parts can be quite harmful. 
Chicken bones, uncooked or cooked, should always be avoided as they can cause a gastrointestinal blockage or perforation. Fatty cuts of meat, skin, and oily meat could be irritating to dogs with sensitive tummies.
Chicken that has been marinated or has had spices added to it, should always be avoided as these could contain harmful ingredients such as onions or garlic which can be toxic to dogs. On the other hand, explore some dog-friendly spice options, such as a dash of spearmint. Only ever feed your dog chicken that you have cooked or have sourced from a company whose recipes meet AAFCO's standards for a complete & balanced diet, so you can guarantee that they aren't ingesting anything potentially harmful. 
When cooking chicken or turkey for dogs we should use plain, boneless, and skinless chicken breasts or chicken thighs.
How Do We Cook Chicken for Dogs?
Now that we know what sort of chicken meat to look out for, the next question is how do we cook it for our dogs? Chicken can be roasted, grilled, boiled, or cooked using more modern cooking methods such as instant pots and slow cookers but for dogs, you can choose to boil chicken. It's one of the quickest ways to cook chicken and because we're boiling it in water we don't need to use oils or fat to prevent it from sticking. Oils and fats can cause an upset tummy for some dogs. I wouldn't recommend using a microwave or other cooking devices as it can be difficult to assess if the chicken is cooked properly. 
To boil the chicken we need to follow a few simple steps to ensure we cook the chicken properly and safely. 
Choose the boneless and skinless chicken breasts or chicken thighs that you want to boil. Ensure that they're in date, fully defrosted if frozen, and have been refrigerated (not stored at room temperature). Practice good hygiene when handling raw chicken to avoid food

poisoning

(e.g. Salmonella). 

Place the chicken breasts or chicken thighs in a big pot and spread them out evenly (not layered) so that they'll cook throughout. 

Pour water over the chicken until they're fully covered by water.

Turn on the heat and bring to a boil. Boil the chicken for 12 minutes, ensuring that the water doesn't run out at any point. 

After 12 minutes, check to see that the chicken is fully cooked. Take out one piece of chicken and cut through it. Check for pink color or jelly-like meat that would indicate that it's not fully cooked. Cook for a further 3-4 extra minutes if you think it isn't cooked. 

When you're satisfied that the chicken is cooked, strain the water off and allow the chicken to cool before feeding it to your dog to avoid thermal burns. 

When cooled, store the chicken in the refrigerator or place it in the freezer in sealed freezer bags or containers. 
When you're feeding the chicken to your dog, ensure that you cut it up into small enough pieces depending on the size of your dog as this will avoid a potential choking hazard. 
When Can We Feed Boiled Chicken to Our Dogs? 
Boiled chicken is healthy and nutritious food for your dog. It can be used as a healthy, low-fat treat or you can use it as part of your dog's main meals. If your dog has a reaction to eating chicken e.g. skin lesions, diarrhea, vomiting, etc. please discontinue the chicken and contact your veterinarian. Some dogs have food allergies or sensitivities to chicken (like they can with any other food).
Conclusion 
Boiled chicken is a healthy but also delicious food that is safe to feed your dog. It can be used as a treat or added to meals. Make sure that you don't feed any chicken bones, skin, or additives when feeding your dog boiled chicken. Your dog will thank you for making them this yummy food! 
Learn more about dogs' nutrition and other types of meat you can feed them: everything about cooked pork for dogs and whether dogs can eat cooked beef.
FAQs:
How do you boil chicken for a dog?
Get some skinless and boneless chicken breasts or chicken thighs and cover in water in a large pot. Boil for 12 minutes, allow to cool, and then cut into small pieces for your dog to enjoy. 
How long do you boil chicken for dog food?
12 minutes is the recommended time but cut into the chicken to ensure that it's cooked throughout before feeding it to your dog. 
Can I give boiled chicken to my dog?
Yes! You can give boiled chicken to your dog. Avoid any bones, skin, or additives. 
How do I boil chicken for my dog's upset stomach?
Boil some plain boneless and skinless chicken in a large pot for 12 minutes.