So, you got a new furry friend, and it's a Shih Tzu. Well, we must say you got some classy taste.
I mean, did you know that the Shih Tzu breed is over one thousand years old?! Also, those dreamy
big eyes just scream love and affection. As for the name that you need to find for your little fella
or lady, we got you covered! Here's our list of the best Shih Tzu names that you can find for your furry friend. Let's begin!
Small Dog Names
Well, since they are a small breed, then it is only natural that you would want to look into some
cute small dog names. So, here they are!
Petit
Sue
Juna
Juno
Kiara
Alona
Afton
Malin
Gimli
Ria
Roxana
Sonnet
Zeta
Nori
Eneko
Tira
Pau
Togepi
Mew
Sky
Yoda
Ewok
Jawa
Gizmo
Bubo
Limffi
Oni
Sori
Neo
Yoshi
Sonic
Knuckles
Ray
Chip
Pluto
Hera
Mochi
Falafel
Muffin
Dumpling
Bao
Kimchi
Kim
Pudding
Peanut
Butter
Biscuit
Nugget
Jam
Toto
Snoopy
Boo
Benji
Jofi
Coconut
Nina
Chicko
Momo
Dougie
Dolly
Duke
Archie
Kokula
Mell
Leon
Leo
Leona
Max
Simba
Loren
Cookie
Lex
Luna
Wicket
Buddy
Max
Odie
Milo
Ernie
Chewie
Blue
Roscoe
Chance
Finn
Louie
Chase
Jax
Barkley
Patches
Rudy
Female names
Ruby
Roxie
Trixie
Gigi
Poppy
Zoey
Maisie
Hazel
Maggie
Lucy
Luna
Mia
Zoey
Xena
Kona
Amelia
Sally
Nala
Male names
Kingsley
Darcy
Winston
Duke
Emerson
Blake
Gatsby
Oliver
Ollie
Vincent
Cute Elegant Names
Well, the breed is classy, isn't it? So why not look into these elegantly cute names for your
pooch:
Fifi
Bianca
Lux
Chanel
Genevieve
Aurora
Lady
Stella
Rose
Bentley
Archie
Jewel
Pippa
Pandora
Porter
Zara
Sasha
Rex
Asher
Aston
Laurent
Orion
Isabelle
Portia
Saffron
Scarlett
Sophie
White and Tan Shih Tzu Names
If you have a white or a tan shih tzu, then we have some ideas for you:
Vanilla
White
Bianca
Weiss
Coconut
Snowy
Ghost
Winter
Popcorn
Brie
Blanc
Vit
Caramel
Goldie
Blondie
Cotton
Frosty
Stormy
Lily
Opal
Dove
Buttercup
Honey
Bianco
Perla
Chai
Disney Dog Names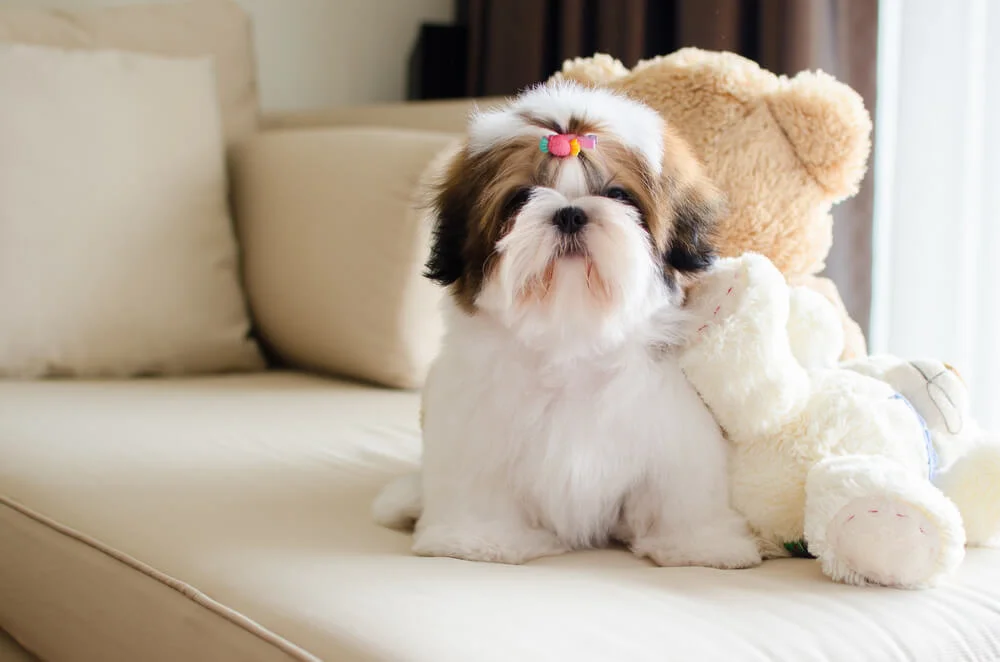 Well we all know what's the ultimate level of cuteness – the Disney dog names! Not only will
they remind you of your childhood, but they are also some of the best dog names ever:
Aurora
Leila
Tiana
Rapunzel
Elsa
Anna
Meg
Atta
Dot
Ting-Ting
Su
Mei
Mulan
Lillo
Kida
Giselle
Nala
Raya
Lady
Abu
Scar
Shenzi
Yu
Hans
Colonel
Danny
Freckles
Lucky
Patch
Penny
Pepper
Perdita
Pongo
Rolly
Thunderbolt
Towser
Black and White Shih Tzu Names
Black and white Shih Tzus are simply amazing. Plus, if cookies and cream are the best you can
think of, here are some name suggestions for you:
Oreo
Cookies
Milkis
Minie
Mickey
Domino
Tux
Dice
Inky
Snoopy
Brown Shih Tzu Names
Choco
Cappuccino
Mocha
Hershey
Brownie
Kahlua
Rollo
Bear
Hickory
Hazel
Nougat
Red Shih Tzu Names
Red screams uniqueness, so we recommend picking some of these unique names that were
inspired by every aspect of the color red you can imagine:
Ariel
Merida
Ruby
Autumn
Redfort
Autumn
Crimson
Maroon
Rusty
Sandy
Candice
Elmo
Annie
Molly
Ginger
Ron
Kim
Sam
Rose
Beats
Gray Shih Tzu Names
The color gray offers a lot of inspiration when it comes to awesome dog names. So, here's a few –
maybe they are just what you need:
Asha
Astra
Silver
Sterling
Mouse
Astra
Myst
Casper
Gris
Haze
Glimmer
Spark
Twink
Sheen
Chrome
Stormy
Misty
Dusty
Spirit
Pebble
Stone
RIver
Comso
Grady
Chinese Names and Meanings
If you wanted something really original, then this list is definitely for you. Shih Tzus are of
Chinese origin, and they have some of the most interesting names. So, let's see them! Maybe
they are just what you were looking for.
Ai – love
Fang – fragrance
Jing – calm or quiet
Min – clever
Hua – flower
Fen – scent
Mei – beauty
Nuo – promise
Xin – happy
Chan Juan – the moon
Guo – country
An – Security
Bo – abundant
Gang – strong
Wen – literate
Chao – surpass
Ming – bright
Wei – greatness
Da – attainment
Ming – bright
De – virtue
Fu – luck or wealth
Yìchén – sun, moon
Zǐmò – refined ink
Huì – clever
Ān – Peace
Chūn – spring
Jiāng – River
Héng – eternal
Huān – happiness
Bǎo – treasure, gem
Líng – smart
Yáng – sun
Xīn – wealth
Yīng – flower, wise
Jīng – brightness
Chàng – smooth
Yingyue – beauty and harmony
Zhiruo – herbal plants
Wangshu – hope, comfortable
Mochou – free of sadness
Mùchén – bathe in sun, moon, stars
Famous Shih Tzu Names
Class and sass are one thing, and if your shih tzu pertains to be a star, then these are just the
names for you:
Honeychild – Nicole Richie's shih tzu
Sumo – Comedian Susie Essman's shih tzu
Harry – Geri Halliwell's shih tzu
Bridget, Gemma and Jessie – Betty Buckley's shih tzus
Fang – Phyllis Diller's shih tzu
Bing and Bong – Mariah Carey's shih tzus
Munchie – Beyonce's shih tzu
Bonny – Colin Farell shih tzu
Other Names Your Shih Tzu Will Love
That's not all just yet! Here are some other names that are just well suited for your little Shih Tzu:
Suki
Legend
Lollipop
Bella
Max
Lola
Chewy
Buddy
Louie
Beau
Lucky
Bruno
Archie
Gus
Sasha
Missy
Ella
Maya
Lady
Koda
Remi
Khloe
That's all! That is our list of the best Shih Tzu names out there. You can't go wrong with any
name that you choose. Always remember to show your new friend all the love and
attention that they show you!
For more inspiration, check out our lists of the best names for other small and medium breeds: goldendoodle names, chihuahua names and french bulldog names for your sweet new pup.