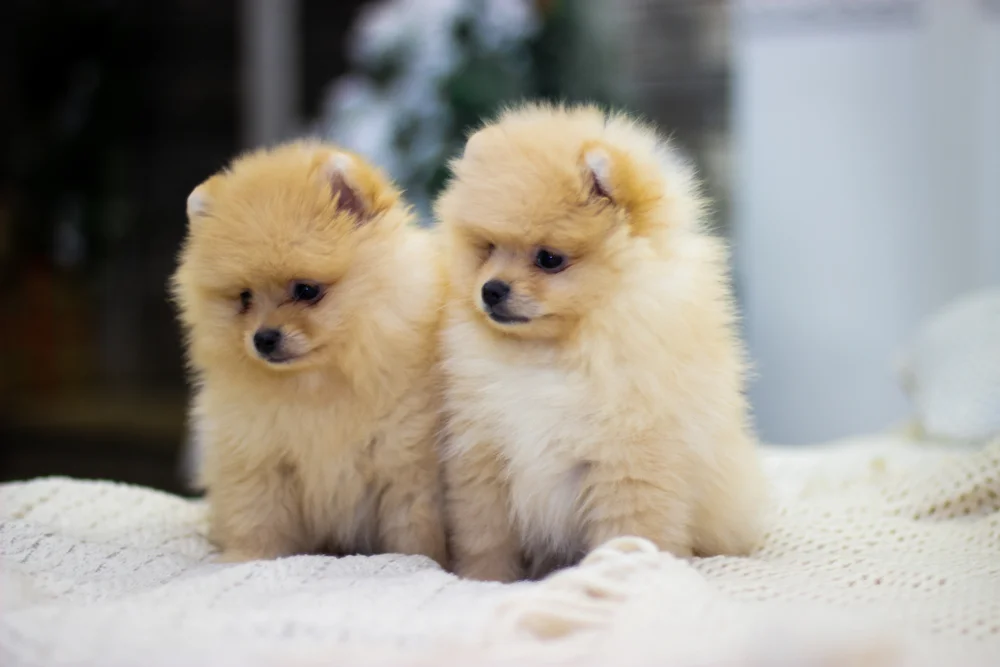 Small dogs lend themselves perfectly to adorable names, and their pool is never-ending! To help you out with all the choices we wrapped up the most unique and adorable small dog names. Let's see what we pulled up! 
Other languages for small
Other languages offer the most inspiration when it comes to unique names. And small dogs have the most unique personalities. So, maybe one of the following names is just the right choice for you.
Petit – French

Lille or Liden – Danish

Klein – German

Sue – Ewe

Juna – Esperanto

Chico or Joven – Spanish

Nuori or Pieni – Finnish

Jong – Frisian

Mikra – Ido

Liten – Norwegian

Mici or Mic – Romanian

Smoa – Swedish
Names that personify that adjective "small"
There are a lot of names that actually point to something small, but have a deeper meaning at the same time. Maybe that is exactly what you need to set your dog apart from all others. Let's see our list.
Aleida – Latin name meaning small

Alona – Hebrew name that translates to "little rock"

Charlotte – French name meaning petite

Kiara – Celtic name that means small

Melina – Greek name meaning "little honey"

Aanik – French name meaning "smallest source of existence"

Adnah – Biblical name meaning "small"

Bogart – Gaelic name meaning "small bowl"

Bolan – Irish name meaning "little poet"

Cathan – another Irish name meaning "little battler"

Egan – yet another Irish name, it translates to "little fire"

Mannix – Irish name meaning "small monk"

Afton – French name meaning "small river"

Becket – English name meaning "little brook"

Carlin – yes, yet another Irish name. This one means "little champion"

Chotto (or Chotku/Chotki) – Indian name meaning "small"

Edan – Welsh name meaning "little fire"

Glyn – Gaelic name meaning "small valley"

Lennon – you guessed it – an Irish name! It means "small lover"

Kieran – yes, yes – Irish, but hey it means "little one"

Malin – English name meaning "little warrior"

Panya – Russian name meaning "small"

Reagen – This one means "small king," and yes – it is Irish

Sweeney – Gealic for "little hero"

Arizona – Native American name meaning "little spring"

Aithne – Celtic for "little fire"

Corette – French name meaning "little maiden"

Gimli – Old Norse meaning "small fire"

Kibibi – Celtic meaning "little lady"

Odelia – Anglo-Saxon name meaning "wealthy little one"

Rubetta – Latin name meaning "little precious jewel"

Logan – Scottish name meaning "small hollow"

Paul – Roman name meaning "small and humble"

Ria – Spanish meaning "small river"

Roxana – Persian name meaning dawn or little star

Sonnet – Italian meaning little song

Zita – Italian, Persian, and Greek origin name meaning "little girl"

Nori – Norse name meaning "small person"

Eneko – Basque meaning "my little one"

Rilla – German meaning "small brook"

Lunet – Welsh, French or Latin name meaning "idol, image, or little moon"

Anima – Latin or Sanskrit name for "soul, tiny"

Suzu – Japanese name meaning "little bell"

Dewi – Indonesian name for "little goddess"

Tira – Hebrew name that roughly translates to "little village"

Pau – Catalan name meaning "small, peace"
Cute Pokemon inspired names
Pokemon is perhaps the series with the highest number of cute little creatures. That's exactly why it is a great source of inspiration for your small fur-ball's name. Here are some of the most popular ones.
Jigglypuff

Dratini

Shaymin

Lillipup

Emolga

Clefairy

Snorlax

Teddiursa

Skitty

Vulpix

Squirtle

Charmander

Togepi

Mew

Eevee

Pikachu

Emolga

Komala

Meloetta

Shinx

Skitty

Popplio

Treeko

Cubchoo
Cute Star Wars Names
While we are on that magical fantastic route, why not take some inspiration from the unique Star Wars characters and creatures.
Jyn

Rey

Kylo

Maz

Poe

Hux

Rebel

Force

Star

Leia

Sky

Padmé

Yoda

Ewok

Jawa 

Wookiees 

Chewbaca (Chewie) 

Porg
Other fantasy names
If Star Wars isn't quite your thing, you can always go with some other names from fantasy. Let's take a look.
Hobbit

Frodo

Pippin

Tobby

Snitch

Drogon

Gizmo

E.T.

Wall-E

Stitch

Max

Bubo

Bumblebee

Teddy

Limffi

Orok

Chutiz

Mine

Sori

Ecotta

Etau

Tulle

Ballio

Trolle

Bunni

Dilbi

Bippa

Oni

Ogre

Fey

Griffin

Chimera

Hydra

Nibbler

Mogwai

Neo

Rocket

Yoshi

Sonic

Knuckles

Ray
Disney inspired names
Yes, Disney has the cutest names of all time. Many of them would be great for a small pup like yours. But, here are the most adorable ones we found.
Patch

Mickie

Minne

Pluto

Goofy

Chip

Buzz

Meg

Hera

Ting-Ting

Nala

Milo

Bambi

Otto

Scratchy

Mooch

Sparky

Rolly

Scud

Zero

Meeko

Winnie

Roo

Cleo

Mushu

Coda
Adorable food inspired dog names
If none of these were a good fit, and you are somewhat of a gourmet yourself – you can always pick a name based on the food you love. Let's see some of these cute choices.
Butterscotch

Caramel

Cinnamon

Coconut

Cocoa

Cupcake

Fudge

Jelly

Mochi

Falafel

Muffin

Nutmeg

Oreo

Peaches

Pudding

Soda

Snickerdoodle

Toffee

Nacho

Peanut

Butter

Biscuit

Basil

Bean

Brownie

Nugget

Apricot

Barry

Yam

Poppy
Famous small dogs
There is always the option of naming your dog after a famous dog. We found some famous small dogs and their names for you. The list may not be long, but one of these names may be just what you are searching for.
Toto – The little dog Dorothy's dog in The Wizard of Oz

Laika – The first dog to travel to Space aboard Sputnik 2 in 1957

Boo –  The dog that has taken over the internet with its cuteness

Snoopy – the world famous comic book and cartoon character created by Charles M. Schulz

Jofi – Sigmund Freud's chow chow dog

Sinbad –  a small black and brown puppy on the Coast Guard vessel during the World War II

Benji – The most famous stray dog in the movie that carries the same name
Bonus names
Well if even that did not fit your taste, we have some additional names for you. 
Turbo

Mimi

Fifi

Daisy

Kai

Ivy

Willow

Dash

Pixie

Jett

Button

Jazz

Uno

Bitty

Elf

Peewee

Runt

Sprite

Tiny

Buddy

Louie

Odie

Opie

Stella

Star

Toto

Ziggy

Dot

Flo

Liz

Saha

Zara

Chip

Leo

Simba

Skip

Dottie

Fluffy
Small dogs, before all else, are adorable and cute. That's why a cute name is a great idea – it will encapsulate your new furry friend's adorableness. Hopefully, we inspired you. Take a look at our other articles to find more adorable names for a French Bulldog, Chihuahua, Golden Doodle, Maltese and Shih Tzu or, why not, one inspired by The Paw Patrol characters.